No, it's not a pipe.  In fact, it's not even a dishcloth.
It's a self-striping sock. Or, at least, it's the prototype pattern for a self-striping sock.
When it grows up it can become a dishcloth and join the legion of others in the drawer.
Why, you wonder, am I swatching with dishcloth cotton? I'm not actually swatching, because I loathe swatching.  I haven't even done a gauge swatch for Quinn's sweater.  If it turns out that it's the wrong size, I'll jump off that bridge when I get to it.
But I thought it would be a good way to knit dishcloths while testing sock patterns.  
I'm on a self-striping kick right now, but I want to do something other than just plain vanilla stockinette all the time.
I remember a couple of years ago Magda came to my step class at the Tower, and she brought some knitting to show me in the locker room.  It was a sock.  And she told me quite blithely that she doesn't even use a pattern. I was gobsmacked and blown away.  I bowed then (as I do now) to her knitting prowess.  
But I have come a long way, and I too don't bother with patterns so much anymore.  As long as I have a pattern for the design on the leg and instep, that's really all I need.
Anyway, the trick with self-striping yarn is to find something which will enhance the yarn without detracting from it.  Too much patterning is wasted on the yarn. Or the yarn is wasted on the pattern.
In my mental queue, I have Circle Socks and V Junkie, both of which I think would be quite cool for self-striping socks.
I have several cakes of self-striping yarn waiting to be turned into yet more socks for Princess.  At some point, however, I would like to do some self-striping socks for me. One of the wound skeins is the March 2012 Stripey Sock Club offering from Nalani Yarns.  The colourway is Dreams. 
I love how the bright turquoise pops out, but the purple and the grey are so close in terms of tone or intensity that they're hard to distinguish from one another, particularly from any distance.  I think that either a lighter grey or a lighter lilac or lavender would have been perfect for the skein.
There is only one pair of socks knit from this colourway on Rav, and it's a pair of vanilla socks.
I looked around at various patterns and decided to do Topographical socks by Katie McEwen. But when I copied the chart from the pattern into my knitting book, I mis-read it somehow.  So the first couple of rows of the first sock are wonky, and I decided it needed to be fixed. 
So I modified the pattern for both the first and second sock.  [When I am gainfully employed again and have a knitting budget, I am going to purchase some chart patterning software. This business of writing patterns out is for the birds.]
The original Topographical is a 64-stitch sock, with a version for 72 stitches.  I changed it a little, and here are the patterns I came up with, based on an 18-stitch repeat.
Sock #1:
P1, k2, yo, k4, ssk, p1, k2tog, k4, yo, k2
P1, k8, p1, k8
Sock #2:
P1, k1, yo, k5, ssk, p1, k2tog, k5, yo, k1
P1, k8, p1, k8
They're essentially the same sock with the yarnovers moved around.  In fact, that's what gave rise to the idea of the dishcloth swatch above.  I wanted to see what would happen if I moved the yarnover by one space every pattern repeat.  I did the pattern rows increasing and then decreasing, with the result that the pattern looks a bit like kites. 
The next dishcloth swatch I do will be the same thing but without the increasing and decreasing.  It will just be a series of either ascending or descending pattern repeats.
Anyway, I'm calling these my Jughead socks because they remind me of the chevron patterning on the bottom of Jughead Jones' shirt. I assume Jughead still wears the same shirt. I haven't actually looked at an Archie comic in about 30 years, so I suppose it's possible that he now wears houndstooth or Gucci or something.
I started both socks at the exact same spot in the yarn (middle of the purple colour repeat), and they started the same, but then diverged from one another.  There are an identical number of rows for each sock, so I have no idea what led to the difference.   Anyway, the Jugheads are more fraternal than identical.
I decreased the foot to 68 stitches and kitchenered when there were 14 stitches on the top and on the bottom.  I also did the Kitchener from the top of the sock rather than the sole, and that seems to have eliminated the little rabbit ears which usually stick out from the toes.
Anyway, these were started on Wednesday and I finished them this morning.  That's pretty quick for a pair of socks for me.
I have no idea what I'll do next.  Actually, I do.  I am going to try the second Afshari (which I keep wanting to call Ashfari) on 2.75 mm circs.  I have now frogged the 2.50 mm circ version and the half skein is sitting on my desk looking at me, along with my HIya Hiya 24" 2.75 mm sharps. If this doesn't work out, then I am going to give up.  There will only be a lone Afsharus.  I am not the kind of person who will start a sock three times.  It's that fickle knitter thing again. 
[I can't believe I was dumb enough to close my Typepad browser window by mistake. I am having such a horrible case of deja déjà vu with respect to this blog post. The first time it closed was because of the coffee being spilled. Clearly this is not a day where I should be anywhere near the computer.]
[I have now also discovered that if you hit the back button by mistake while in Typepad, it erases everything you've done since the last time you hit Save.  Heaven help you if you didn't hit Save at some point.  I have seriously now been trying to blog this stupid post since 4:00 this afternoon.  It is now 8:47.  There is a big glass of wine waiting for me when I'm finally done this phoquer.].
I have had no yarn deliveries.  I'm on a self-imposed yarn embargo until such time as I have a job and I know what, if anything, my knitting budget will be.
But then I had a slight oops moment.
My weakness these days is self-striping yarns. I was on Etsy looking at my favourite shops, and I noticed that Dye Hard Fibre Arts had a couple of new skeins of self-striping MCN yarn.  One was a rainbow, and the other was three shades of pink. 
Well, before I knew it, they were in my shopping cart, and all of a sudden there I was at Paypal.  I couldn't even control myself.  I had hit the Continue button without even realizing it.  So I will soon (which is a relative term, as we know, when it comes to Canada Post) be the proud owner of two more skeins of self-striping sock yarn from Dye Hard Fibre Arts.
One of the things which I really love about the Dye Hard Fibre Arts yarn is that the colours are very saturated and very even.  Some of the self-striping yarns have uneven colouring, so that they look a bit mottled or heathered. 
So I went with the Dye Hard yarns, and justified it as a birthday present to myself.
It was a toss up between Desert Vista Dyeworks and Dye Hard Fibre Arts. There are some gorgeous skeins available from Desert Vista Dyeworks.  [All images are copyright and courtesy of desertvistadyeworks 2012].
I really want Neon Spring Four Stripe Self Striping Sock Yarn.  It's to die (dye) for.
The Lemon Lime and Pink Lemonade Three Stripe is also beguiling ...
As is the Tiki Bar Six Stripe Self Striping Yarn ...
There are also some gorgeous skeins available from Ladybug Fibers. [All images courtesy and copyright FridayStudios 2012].  This skein of Zoe is a beautiful blend of fuchsia and aqua.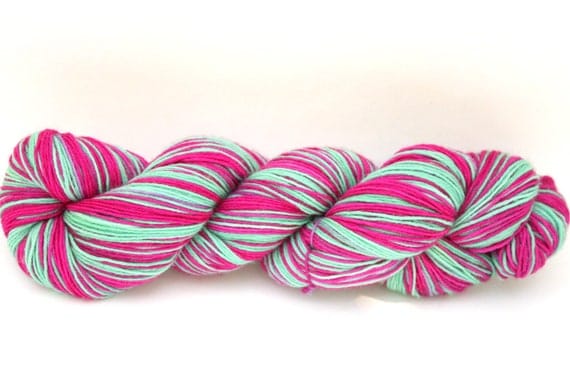 The Salvia is also beautiful.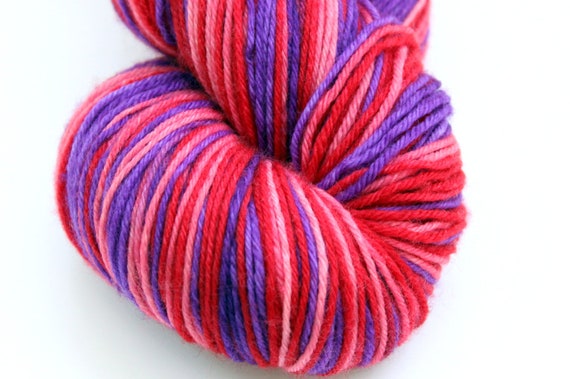 I'm not normally drawn to pastels, but I think this skein of Spring Fling would make absolutely lovely socks.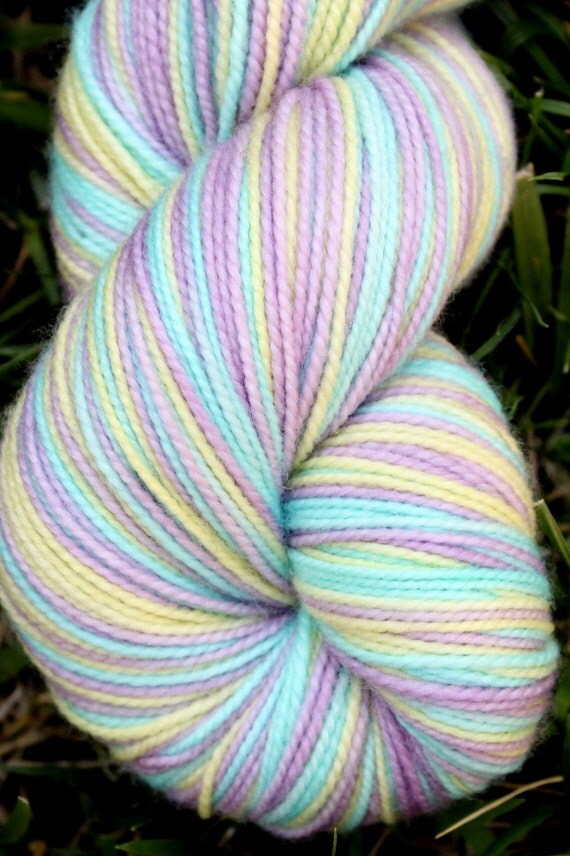 I haven't been able to get any of the self-striping fingering weight from Three Ewes Twisted in Fiber, but it's on my mental wish list.  I'd also like some of the yarns from Coulrophobia (which, it seems to me, might more appropriately be named Coulrophilia rather than phobia).  On my mental wish list are also skeins from Friday Studios and Twisted Limone, and of course, Fibernymph Dyeworks.  A skein of Nyan Cat is akin to the Golden Ticket in Charlie and the Chocolate Factory.
For now, I'll just be content with Windows shopping for these and other lovelies.  It's not as if I don't have anything to knit ….
But the end of July brings more sock club anticipation.  I'm waiting for the following shipments:
Cookie A (shipping notice received – yay!)
Socktopus (usually a couple of weeks after Cookie A)
Blue Moon Fiber Arts (no shipping notice, but it's the end of July)
Tsock Tsarina (shipping notice received – yay!)
So I'll at least have those to share over the next few weeks.
In terms of other knitting, there is none.  I have given no love to the sweater for the Lad.  It's that obligation knitting thing.
I have been mentally toying with the idea of casting on another shawl.  I don't want to do another Color Affection, but I do like the combination of colours, and I don't even mind the look of the garter stitch, even if it is coma-inducing.
I thought briefly about purchasing the Stripe Study or the other stripey one by Veera Valimaki, but decided against it.  I was scouting around on Ravelry and came across some patterns by PaulinaP Designs.
There are some absolutely fabulous shawl designs there.  My favourites are the Electra, Cameo and Chameleon, but I also like Fracture, Spring Awakening and Orion's Belt.  So if you're like me and you like the idea of the Color Affection, but can't stand the idea of doing it again, check out some of the PaulinaP designs.  They're absolutely fabulous. In fact, I have 8 of her shawl patterns in my Rav shopping cart.  [Apparently I have 69 shopping baskets on Rav; I use them like other people use the Queue function.]
In terms of non-knitting content, here's an interesting thing which I came across on one of my thrice-daily walks with the beasts.  I find that I keep my eyes on the ground a lot, and I see  quite a few four-leaf clovers.  But I had never seen a five-leaf clover before.
Unfortunately, all of this keeping the eyes on the ground does not lead to finding money. 
I spend a lot of time listening to audiobooks when I'm walking the dogs, and often when I'm knitting.  I also spend a lot of time reading kindle books.
At the moment I'm listening to the last book (which is about 7 hours long) of Robert McCammon's Speaks the Nightbird.  It's the first of what is now a 4-book series.  I have the books in paperback, but purchased the audiobook based on some of the reviews.  I wouldn't give it a 5-star rating, but it's okay.  I'm sure it's historically accurate, and the story is interesting enough, but I am irritated at the small-mindedness of the puritanical late 17th / early 18th century small town village idiots who are prepared to burn a woman at the stake because she is suspected of witchcraft.  And don't even get me started on what passed for modern medicine back then.  I just want the book to be over.  I am not going to rush out and use any of my credits on the next book.
If I hadn't already read all of the S.J. Bolton novels, I'd definitely go out and use my credits for some of her books.  I had to get some on the kindle and some in audiobook version.  For whatever reason, some books are just not available in Canada, despite the fact that the content is being beamed wirelessly through the stratosphere.
It's like the fact that I was unable to order Charles Gandy's The Embellished Sock from Amazon.  The book cannot be shipped to my address.  Ironically, the books are printed in Manitoba.   So I contacted Charles Gandy through a PM on Rav, and arranged to purchase a book directly.  I will leave that for the next blog post, because I am now at the bottom of page 4 of my post in MS Word, and by the time I throw photos in, it will be like reading War and Peace. So you have that to look forward to as well.  (Charles Gandy, not War and Peace).
In other news, the Calla lilies are still coming up strong. How much am I loving the black calla lilies? And I'm intrigued by how one of the leaves is taking on the yellow and orange colours of the actual flower.  Fascinating stuff. 
The other night, the kids pointed out that I take way more photos of the dogs (and the yarn and the knitting) than I ever did of them when they were little.
"Duh," I said.  "That's because I didn't have an iPhone when you guys were small."
It's true.  I owe all of my current photo taking to having a camera phone.  I can't even remember what I did before I had a Blackberry.  I had a Pentax K-100 with a couple of different lenses, and it used to cost a fortune to buy film and have it developed for what was usually about 3 decent photos on a 24-shot roll of film. 
The kids just can't even relate to that.  It's all about instant gratification.
Anyway, let's hear it for dogs and lilies.